Contacts
Tel
025-85805076
025-85805077
Fax
025-85801633
E-mail
info@DeTieLab.com
Address
10#501, 42 Xingang Avenue, Nanjing Economic and Technological Development Zone

Your position:
Home
> Products
HBS-1096Amicroplate reader
Author:Nanjing Detie Update Time:2023-03-26 12:23:33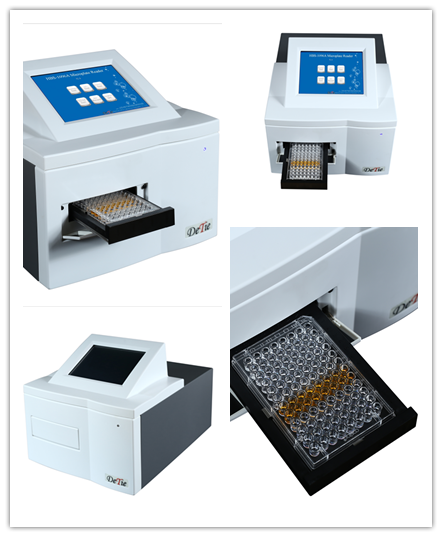 Automatic Elisa Analyzer
◇ Industrial grade color LCD display, touch screen operation.
◇ Eight channel optical fiber measurement system, imported detector.
◇ Center positioning function, accurate and reliable.
◇ Three kinds of linear vibration plate function.
◇ Unique open Cut-Off judgment formula,Think what you think.
◇ End point method, two point method, dynamics, single / dual wavelength test mode.
◇ Configure the inhibition rate measurement module, dedicated to the field of food safet,
Medical testing and ect.
Main Parameters
Lamp:DC12V 22W Tungsten halogen lamp
Optical path:8 channel vertical light path system
Wavelength range:400-1000nm(Selection:340-1100nm)
Filter:Default configuration 405、450、492、630nm, Can be installed up to 15 filters.
Reading range:0-4.000Abs
Linear range:0-3.000Abs
Resolution: 0.001Abs
Accuracy:≤±0.01Abs
Stability:≤±0.003Abs
Repeatability:≤0.3%
Incubation function:room temperature+4℃~50℃,accuracy 37℃±0.5℃(Selection)
Vibration plate :Three kinds of linear vibration plate function, Adjustable 0-255 seconds
Display: 8 inch color LCD screen, display the entire board information, touch screen operation.
Software: Professional software, Can store 200 groups program, 100000 sample results,More than10 kinds of curve fitting equation.
Power input:AC100-240V 50-60Hz
Weight:11Kg
Size:433mm(L)*320mm(W)*308mm(H)